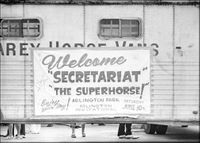 ARLINGTON PHOTO COLLECTION June 30, 1973 - It has been called one of the most important days in Illinois thoroughbred racing history. On this date, Penny Chenery brought Secretariat, her recently coronated Triple Crown champion, to Arlington Park for the inaugural running of the prestigious Arlington Invitational. The Meadow Racing Stable's super horse had just three weeks prior won the Belmont Stakes, claiming the Triple Crown's final jewel by an astounding 31-lengths in world record time.

The decision to bring Secretariat to the Arlington Invitational would ultimately prove pivotal for the struggling Illinois racing industry and launched it on the road to recovery. Secretariat did not disappoint the crowd of 41,000 who witnessed his nine length victory, just missing the track record time by 1/5 of a second. It was that rare performance that matched towering expectations: indulgent, absolute, and unmitigated.

The Secretariat Arlington Collection documents this illustrious event in Chicago racing. For the first time, this rare collection of photos from the Secretariat archives will be available to the public for purchase.The collection follows Secretariat along the chronological trail of his visit in both color and poignant black and white photography. These select images feature the entire Meadow team including owner Penny Chenery, trainer Lucien Laurin, jockey Ron Turcotte, groom Eddie Sweat, and exercise rider Charlie Davis in candid shots of Secretariat at the barn, in public workouts, post parade, and culminating stretch run.