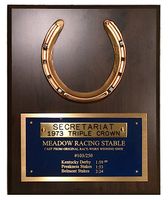 As sports memorabilia goes, a Secretariat horse shoe represents the pinnacle acquisition to any racing collection. However, with original authenticated Secretariat race-worn shoes now commanding more than $36,000 on the auction market, they have reached a whole other stratosphere in terms of rarity and availability.

The Secretariat limited edition Golden Shoe represents an affordable alternative and treasured memento for any Big Red enthusiast to enjoy. These attractive keepsakes were cast as exact replicas from an original Secretariat race-worn winning shoe that now resides within the Secretariat archives. Secretariat wore the original when he won the 1972 Futurity Stakes, his very first appearance at Belmont Park and a prelude to his magnificent world record Triple Crown performance on the same track nearly nine months later.

The Secretariat Golden Shoe was produced in a limited edition of only 250 total pieces, each exhibiting the identical detailed race-worn scuffs and characteristics of the original Thoro'bred racing plate.The Golden Shoes are individually engraved with the edition number on the reverse along with descriptive information of the Meadow Racing Stable, who campaigned the 1973 Triple Crown champion. Accompanying each shoe is a special gold-foiled certificate triple hand-signed by the late "Mistress of the Meadow" Secretariat's owner Penny Chenery, Hall of Fame jockey Ron Turcotte, and Kentucky Derby Museum president Patrick Armstrong.

SORRY, NOW SOLD-OUT. Please inquire regarding our assistance in locating golden shoes available on the secondary market.