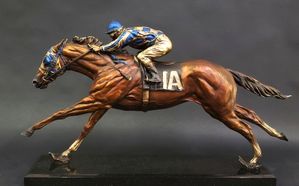 Secretariat was honored with a larger-than-life bronze monument in Lexington, Kentucky in 2019. The monument was created by acclaimed artist Jocelyn Russell whose sculpture of the WWI equine hero Sargeant Reckless resides at the Kentucky Horse Park. The project was one of the last approved by Secretariat's famed owner Penny Chenery before she passed in the fall of 2017.

The Secretariat monument was unveiled and dedicated in conjunction with the Oct. 12-13 festivities of the 2019 Secretariat Festival that took place at Keeneland Race Course.

In commemoration of this landmark civic endeavor, a corresponding version of the sculpture entitled Secretariat "Racing into History" is now available for purchase as a table-top fine art bronze in a limited edition of 73 pieces.

The bronze meticulously depicts Secretariat in full stride with jockey Ron Turcotte aboard in the 1973 Kentucky Derby. From the 1A saddlecloth, to the Meadow's royal blue silks to the chestnut colt's impressive muscular definition, the pose freezes history in one awe-inspiring moment in Secretariat's record-setting Derby performance on his way to superstardom and a record-breaking Triple Crown championship.

The sculpture measures 28 inches long, 16.5 inches tall, and 5 inches wide and rests on polished black granite base. Russell's unique patina process consists of traditional ferric for the deep rich reds and an iridescent blue tint for the Meadow Stable checkers and stripes. With a weight of 55 lbs in total, this breathtaking art piece appropriately represents the iconic champion often called "Big Red."

Please note: Production time may take up to 12 weeks. Shipping cost and delivery options will be determined upon receiving your order. Please contact us at (502) 473-1036 if you have any questions.