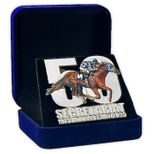 These Secretariat 50th Anniversary collectible keepsakes put the "Big" in Big Red! With the size of these premier pins measuring over 2" in height and length, they may be better described as Pin Badges! This dynamic trio features the Meadow Stable champion over the backdrop of the number "50" representing the golden anniversary of Secretariat's glorious 1973 Triple Crown campaign. The amazing detail and craftsmanship of the pin badges showcase Secretariat in dimensional form representing three iconic racing moments in his career: In "flying" stride in the homestretch of the Kentucky Derby wearing saddlecloth number 1A; wearing saddlecloth number "3" in "leaping" stride capturing his amazing move on the first turn in the Preakness; winning the Belmont Stakes by 31 lengths to sweep the Triple Crown — with all three performances resulting in record-breaking times (embossed on the pin's reverse) that still stand today. The pin badges are the perfect adornment for any lapel, cap, tote, or even to frame and display.

Available individually for $24.95 ea, or purchase the entire Triple Crown set for $73 (naturally) and save a little. Either way, start collecting and order yours now!

Collectors Alert: New Platinum Edition Pin Badges produced exclusively for the 2023 Secretariat Festival. Only 100 total platinum sets were produced, with a small portion being made available online here for those who cannot attend the Festival. Each platinum edition pin is accompanied by its own elegant blue velvet box. Available on a first-come basis.